I'll admit it.....I was a little
nervous
last week. I was
so sure
that nobody would link up any sewing projects, and I'd have to chalk this up as an
"atleast I tried".
So imagine how
thrilled
I was to have
19 links
....and
all
of them were great!
It was hard to choose favorites, but here's a few that I really liked:
Plush Flowers in Pots
from
Bird Crafts
via
Someday Crafts
Tic Tac Toe: 3 Hearts in a Row
from
Oopsey Daisy
Corduroy Purse
from
Seven Thirty Three
Thanks for sharing your great sewing projects ladies! Feel free to grab the "I Was Featured Button" on my sidebar!
I can't wait to see what projects are linked this week!! I have a feeling my "To Do" list is going to be growing longer and longer!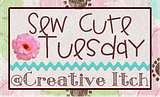 Rules for linking:
**please link
sewing projects
only! (can be sewn with sewing machine or by hand)
**link to the
specific post
, not blog home page!